Floor Staining Services Sydney
To completely transform the look of your wood flooring, staining may be the perfect option for you. Staining can give an entirely new colour to the wood, from natural wood tones to classic whitewashing.
Throughout our 15 years of experience in the Flooring industry we have had the opportunity to work with a wide variety of stains and application techniques so have a wealth of knowledge.
---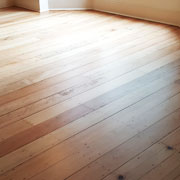 The Process
To complete the floor staining, the floors must first be sanded to remove the existing sealer and reveal the natural wood underneath. Then, the staining can begin. We do all of the wood staining by hand to allow greater precision in the colour application for an even, cohesive look. Finally, we will apply clear sealing coats to protect the colour and give your floors the desired sheen.
Our Service
Our commitment to excellence doesn't just extend to our workmanship and the quality of the materials we select. Our professionals only use the highest quality floor sanding tools and equipment and are experienced in handling all types of flooring and finishes.
Before we commence any work, the time will be taken to work with you to fully understand exactly what you are looking for so that we can deliver in accordance with your expectations. All aspects of the pricing will be discussed before we begin and will outline all expenses. Samples can be supplied before any work is started to ensure your expectations are met.
When required, 3D models can be produced using computer software so you can visualise your completed project.
We provide floor staining in Sydney and have had clients in many suburbs.  To discuss your vision and obligation free quote, call, email or text us and we will set up a time for a consultation that works best for you.