Timber Floor Repair Services
We are experienced in handling all manner of timber floor repairs that includes structural and cosmetic restoration.
While wood floors look great, they do require a significant amount of upkeep to ensure that they stay looking their best over the years. We recommend vacuuming or dry mopping at least once a week to maintain the appearance of your floors.
---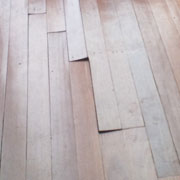 Minor Damage
In many cases, particularly in the early stages of damage, floors can be repaired by simply top-coating to cover minor scuffs and scratches and in some cases can bring the floor back to near new condition. We have a good eye for identifying timber species, so in the case of replacing damaged sections, single boards or patching where walls have been removed we can find the appropriate wood to match the condition and age of your current flooring so the repair is not obvious and quite often invisible.
If any boards have begun to warp or are no longer level, we can sand them down to create a smooth finish and fill in any gaps or cracks with custom-mixed fillers designed to most closely match your existing flooring. Sanding is also helpful in eliminating scratches. Applying new sealant over the newly sanded areas brings back your floor's lustre and gleam.
We have suppliers for both new and quality recycled timber so can replace old floorboards with individually selected reclaimed boards to best match.
---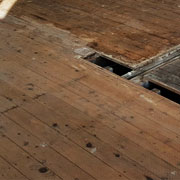 Severe Damage
On the more serious end of the damage spectrum are severe warping and wood rot. In cases such as these, we will inspect the damage on a case-by-case basis in order to determine if the flooring can be repaired or if it will need to be replaced entirely. Either way, we are equipped to handle it. We will discuss all options with you before beginning any wooden floor repairs work so that you can make an educated decision about how to proceed and have a good understanding of all options available.
Our Service
Our commitment to excellence doesn't just extend to our workmanship and the quality of the materials we select. Our professionals only use the highest quality floor sanding tools and equipment and are experienced in handling all types of flooring and finishes.
Before we commence any work, the time will be taken to work with you to fully understand exactly what you are looking for so that we can deliver in accordance with your expectations. All aspects of the pricing will be discussed before we begin and will outline all expenses. Samples can be supplied before any work is started to ensure your expectations are met.
When required, 3D models can be produced using computer software so you can visualise your completed project.
To discuss your vision and obligation free quote, call, email or text us and we will set up a time for a consultation that works best for you.