Floor Sanding Sydney Services
Floor sanding, also known as floor polishing, is ideal for reviving original timber floors and bringing them back to their original lustre.
We have a deep understanding of the nature of various types of wood and which sealants work best with each type. Our commitment and dedication to you and the flooring is evident in the finished product, as is our attention to even the tiniest of details. We can tailor a package to fulfil our clients' needs and requirements
---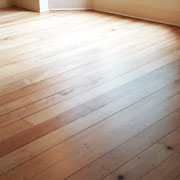 The Process
This process involves sanding off the existing coating as well as a fine layer of the wood, in order to remove scratches, dents and flatten any uneven areas. Once the timber is thoroughly smoothed and all sanding marks are removed, a new coating of sealant is applied over the top to give it that stunning sheen. A Matte-Satin for a soft natural look or Low sheen/High Gloss for a classy mirror like finish.
In our floor sanding work, we care for wood floors and stairs not just in private homes, but in commercial areas as well, including hotels, bars, galleries, museums and large public spaces. We have over 15 years of experience in working on a wide variety of timber flooring.
We are skilled in timber floor sanding using Burnishing Oils, Traditional Tung oils, Hard-waxes, Voc-free Water-based coatings and traditional solvent based finishes.
Our Service
Our commitment to excellence doesn't just extend to our workmanship and the quality of the materials we select. Our professionals who specialise in floor sanding and polishing in Sydney, only use the highest quality floor sanding tools and equipment and are experienced in handling all types of flooring and finishes.
Before we commence any work, the time will be taken to work with you to fully understand exactly what you are looking for so that we can deliver in accordance with your expectations. All aspects of the pricing will be discussed before we begin and will outline all expenses. Samples can be supplied before any work is started to ensure your expectations are met. Just ask our happy clients as we have provided floor sanding in the northern beaches and its surrounding suburbs.
When required, 3D models can be produced using computer software so you can visualise your completed project.
If you are in the market for a polished floor, and looking for experienced professionals, we want to talk to you. We provide floor sanding in Sydney and have had clients in many suburbs. To discuss your vision and obligation free quote, call, email or text us and we will set up a time or a consultation that works best for you.